Here's What Others Have Said About Annette Roderick, Owner, AMR Business Services
Annette is a team player and gets on well with everyone. She is supportive of her fellow team members and provides assistance to them by way of training and coaching.  Annette is reliable, hard working, intelligent, punctual and at all times well presented. She can also be relied upon to maintain confidentiality in any issues where confidential information is being dealt with.
Tony Hayward
Annette is committed and ambitious and demonstrates initiative, a high level of integrity, and commitment to professional development. She is well regarded by her peers and is a team player. Her personal and professional qualities hold her in good stead.
Robert Carruthers
On behalf of the Board of Directors of Castra Retirement Home I would like to pass on the compliments of the board for your exemplary work performance in the preparation of the financial statements of the facility for auditing.  The timeliness and accuracy of your work were evidenced by comments from the auditors.  I congratulate you on your work ethic and add my personal thanks for your efforts.
Nina Vonhoff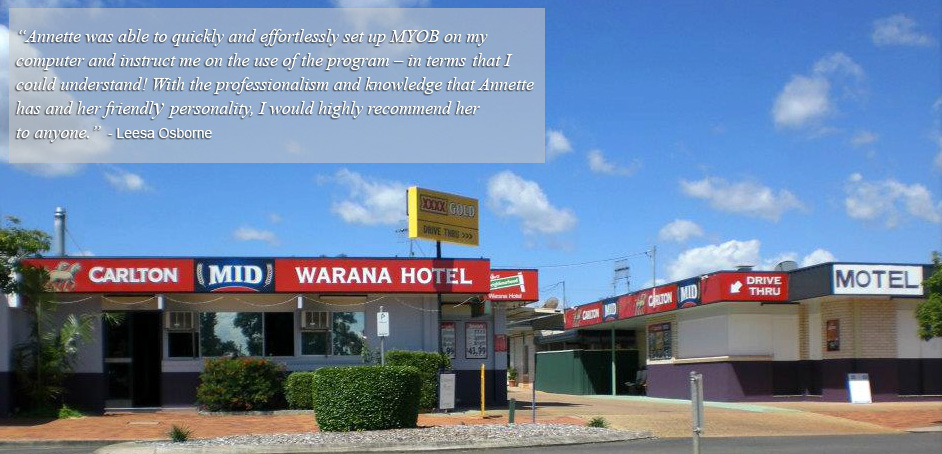 Annette's extensive knowledge in Accounting, HR, Budgeting, Grant Submissions and Acquittals ensures our not-for-profit organisation meets funding compliance and maximises the full potential of business operations.  Her cultural awareness is strong and evident in the relationships she has built with our community, clients and staff.
Veronica Williams
I found Annette Roderick purely by chance and gave her a call.   I had just purchased a business and there was so much that needed to be set up to start trading.  Annette was so professional and knows everything there is to know about MYOB accounting.  Everything was explained to me and if I had questions they were promptly answered.  I would absolutely recommend AMR Business Services to anybody that needs help as Annette is so patient with you and is happy to explain anything that you are struggling with.
Donna Yesberg
Annette has worked for us for several years as a bookeeper to our businesses, Bass to Barra, Matthew Mott Sportfishing Charters, Smak Lures and Dynamic Hair Creations. We could not fault Annette's work, she always went over and above for our business. She was even a counsellor and a shoulder to cry on at times. Absolutely excellent at keeping the books. She is one of a kind, a beautiful natured lady, who deserves nothing but success in all her ventures. God knows she does the long hours for it and always with a smile on her face.
Gayle Mott
We have used AMR Business Services since the start of our new business 8 years ago.
Annette has always been available to answer all of our every day needs as the business expanded with her prompt attention to our requirements.
Her attention to detail and confidentially is a high priority to us as well as her knowledge of up to date changes in the industry.      .
I would highly recomend AMR Business Services for any businesses looking for that one every important factor to their business.
Sandra Maroske
I found Annette to be very friendly, approachable and extremely helpful with all my MYOB needs.  She never had a problem with sorting any issues out and went out of her way to help me within a short timeframe.  I have really enjoyed working with Annette and would recommend her to anyone.
Naomi Breen